Chocolate bar conveyor line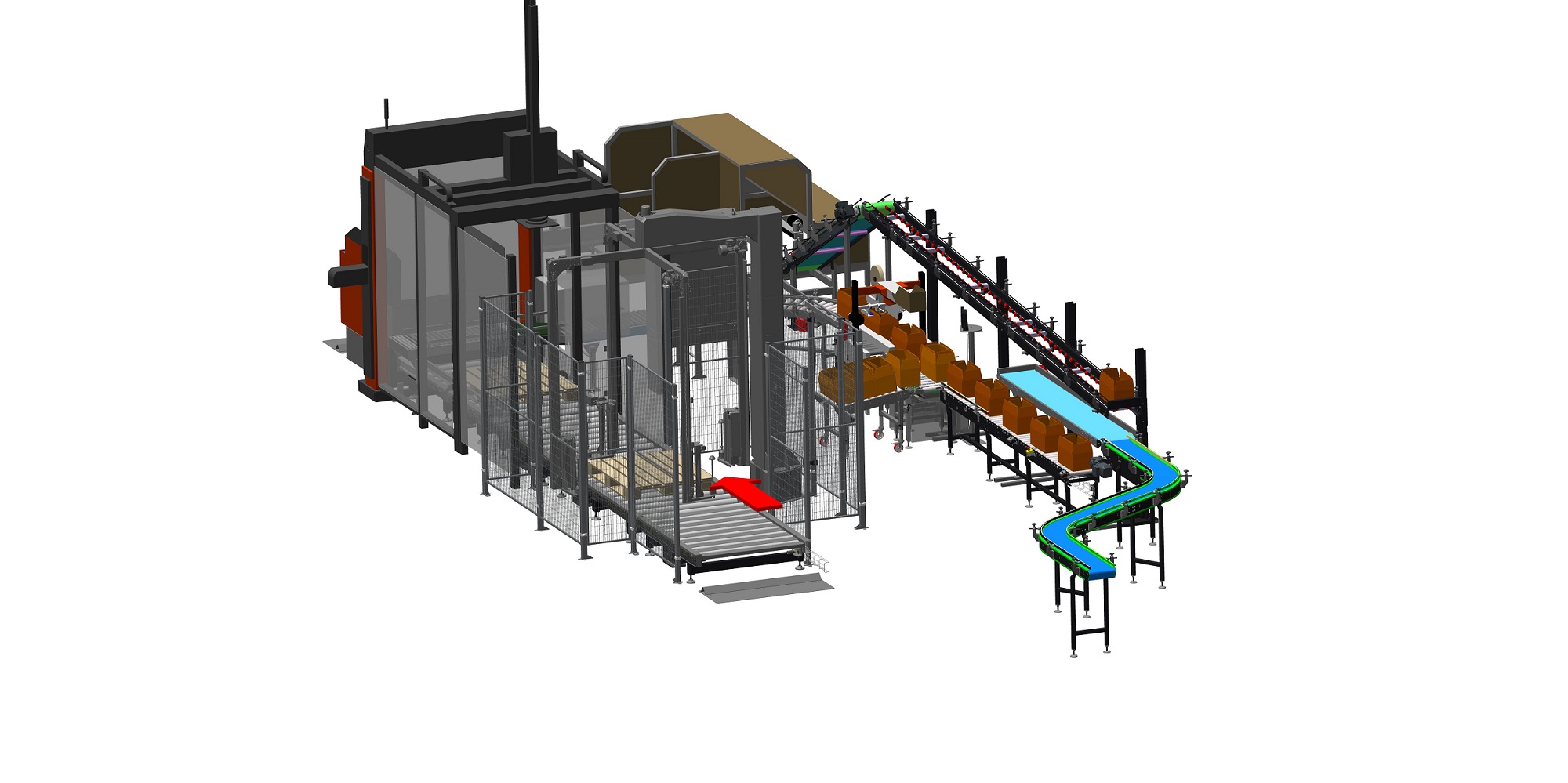 Chocolate bar conveyor line
Technical description: 
Production of a line-end system for packaging chocolate bars, consisting of:
a box former,
a weighing system that can eliminate rejects,
a box closer and taping machine,
a pallet unstacker,
a palletisation robot and a pallet wrapper.
The conveyors are built in-house, and machines such as the box former, taping machine, wrapper etc. are integrated by our teams.
Packaging:
First of all, the conveyor line collects chocolate bars on a modular belt conveyor as they leave a cellophane wrapping machine. A belt conveyor accumulates them in front of a team of operators. Empty boxes leaving the box former are brought to the operators by another conveyor.
Two operators manually fill the boxes, and full boxes are transported away at the press of a button.
The full boxes are transferred to a weighing system, where boxes with non-standard weights are rejected. The other boxes arrive at the taping machine before being carried to the conveyor supplying the palletisation robot.
Pallets:
A pile of pallets is fed into the unstacker, which automatically extracts them and places them one by one on a motorised roller conveyor that takes them beneath the palletisation robot. Full pallets are transferred to a pallet wrapper.
At the end of the line, the filmed pallet is transported to the end of the conveyor to wait for a handler.
Dimensions:
Chocolate bars:

100/150 g
In batches of 5 or 10
The rate is 25 batches of 5 per minute or 12.5 batches of 10 per minute

Cardboard boxes:

10 or 15 kg each when filled
10 kg box: 48 seconds
15 kg box: 72 seconds

Pallets:

Format 1,000 x 1,200 mm
Consisting of 8 layers
Maximum weight 2 T
Production rate of 12 T over 2 x 8-hour shifts
The line operates 16 hours a day, 7 days a week.
Link YT : https://www.youtube.com/watch?v=K5LIuC-GDvo