Box-filling conveyor in the agri-food sector.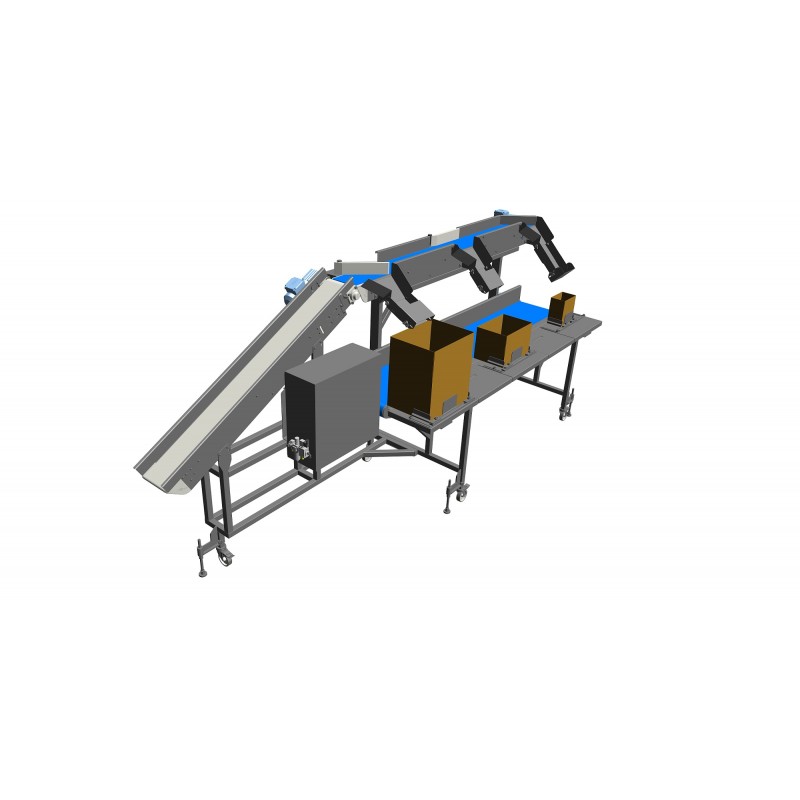 Box-filling conveyor in the agri-food sector.
Technical description:
Our customer uses various sizes of cardboard boxes for several types of cakes and biscuits (cookies, fondants, tarts, loose products etc.). They wanted to automate the box-packing operation for their products with a comfortable workspace for their teams.
The project consists of three conveyors.
The first collects the biscuits after they have been flow packed and feeds the second conveyor. This conveyor has sensors to activate flaps – two flaps are controlled by an automatic controller and the third is fixed.
The chutes are adjustable to suit different cake and biscuit sizes (several sizes of cookies, brownies, muffins etc.).
The box locations are equipped with adjustable guides for different box sizes.
Finally, the boxes are pushed on to a third conveyor that feeds the palletising station.
The rate requested by the customer is 150 cakes and biscuits per minute.
Industrial assembly:
one driven-belt conveyor
one driven-belt conveyor with pneumatic diverters
one straight driven-belt conveyor with chutes
Products: 
Product transported: packaged biscuits
Rate: max 150/min
Temperature: ambient temperature of 10–35°C
Environment: agri-food
Box filler conveyor video: Watch the filling machine in action.
Application:
This type of machine can be used to automate box filling for many food products (brownies, muffins, fondants, cookies, cakes, tarts) or other products.